TabletSoap Locker
Multiple devices, one solution!
Cell phones, tablets, E-readers: Store, charge, and sanitize them all in the TabletSoap Locker
TabletSoap Locker securely stores up to 8 devices under lock and key. Better yet, it simultaneously sanitizes and charges your devices while they are locked away!


&raquo Lock & Store 8 Devices
&raquo Sanitize All Devices Simultaneously
&raquo Charge & Sync Multiple Devces Simultaneously
&raquo Completely Customizable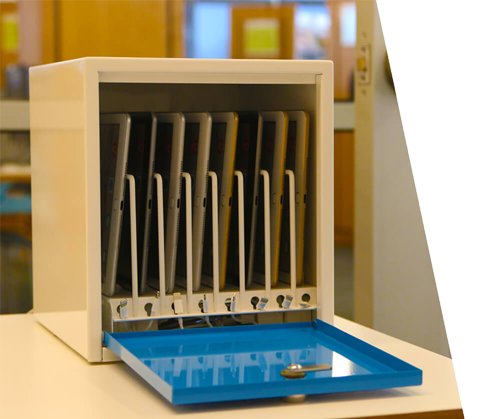 Securely Store Up To 8 Devices!

TabletSoap Locker provides a safe place to store personal electronic devices wherever you use them. Families can store devices from kids or lock up devices when leaving home. Hospitals and school administrators can store devices behind lock and key, helping with security and inventory assessment. The locker consists of a drawer with a key lock on the outside. On the inside, the separate compartments provide a convenient and secure spot for each device. The locker holds 8 devices, and it simultaneously accommodates different sizes and operating systems.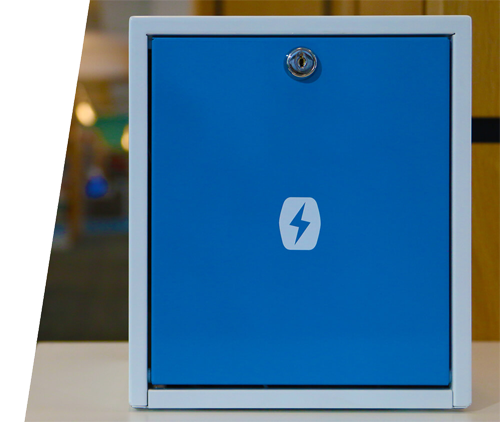 Sync & Charge Your Devices

While your devices are stored in the TabletSoap locker, they can be connected to power and charged. There are enough USB ports inside the locker to sync and charge each of your devices and full charging capacity.
Sanitize All Your Devices

Cleansing technology has always been messy and time-consuming. TabletSoap locker simplifies and speeds up the sanitizing process. A series of UV-C lamps line the top of the locker emitting a very specific wavelength of light around your devices. The light hits the device and passes through the cell walls of bacteria and viruses and impairs their DNA. Once the DNA is compromised, the cells die and can no longer cause infections or disease. In a matter of minutes, all of your stored devices are sanitized, making them cleaner for your loved ones, students, and patients.
The TabletSoap Locker is
built to order.
Whatever your needs are, we can accommodate. From custom colors to custom logos, we will make your locker fit your location. Further, inside each Locker, we can customize the compartments for your needs. Does your retail location have two tablets and multiple phones? Or does your library rent out all iPads? Whatever your needs we can ensure your Locker fits your needs.